TREK products are packed with natural ingredients like plant-based protein, gluten free oats, fruits and nuts – the perfect combination of wholefood ingredients that will keep you going for longer.
Typical cereal bars can contain as many as 30 ingredients, some of which we can't even pronounce and many of which are just variants of sugar. Despite what it might say on the packet, these heavily-processed, additive-filled cereal bars are not "healthy" at all. We believe in minimal processing. We don't add any refined sugar, syrups or mysterious additives to our products.
The entire TREK range is packed with up to 10g of plant-based protein. Our Energy Bars, Protein Flapjacks and Protein Nut Bars are all vegan, gluten free and GM free. So, you can get the energy you need the way nature intended.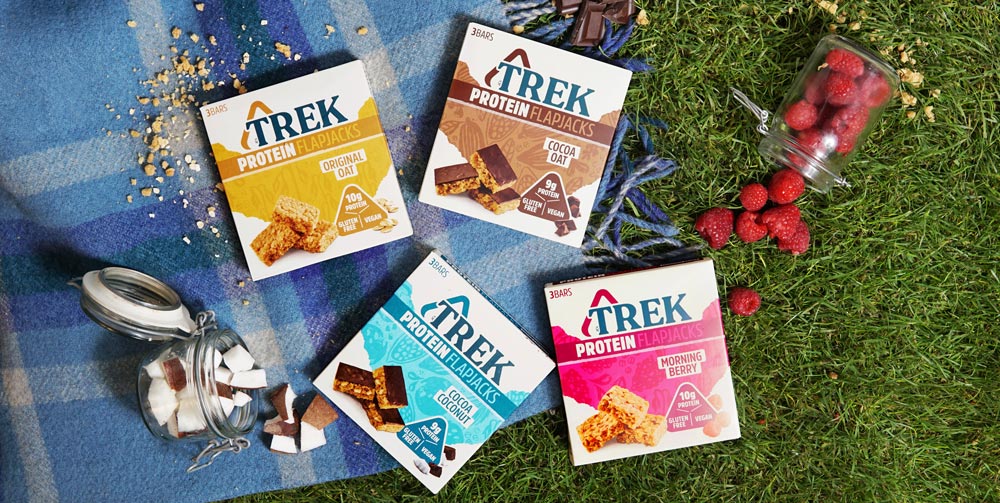 TREK's protein flapjacks are a British classic revolutionised! Coming in several tasty flavours, these hearty protein bars are sure to keep you full, whether you're eating them as a quick breakfast on the way to work, or after your evening run.
Compare these sweet-treats to your old cereal bars! Packing 10g of plant-based protein, you won't believe that the entire TREK Protein Nut Bar range has less than 5g of sugar per bar (and that is all from natural sources!) Perfect with your morning coffee, our nut bars come in fruity or chocolatey varieties.
A TREK Energy bar is all you need to keep yourself going, whether you're an avid cyclist, active walker or even an amicable actor! Our delicious TREK Protein Energy Bars even come in three blocks, so you can stop yourself going hungry all day.