Just bought a Fitbit? Or hoping to get one? Congratulations, you've already taken one step to improving your health and well-being. That's because a Fitbit is a fitness tracker that can help you monitor everything from your steps, to your heart rate and sleeping patterns. This clever smart device is great for fitness fanatics and beginners alike, and we're gonna tell you exactly how to use it. 
Don't have a Fitbit? Pick up one of our TREK promotional flapjack packs today and enter our competition for your chance to win a Fitbit!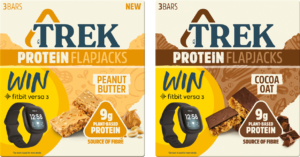 What does a Fitbit do?
1.Track your sleep – Sleep is one of the most important bodily functions. It allows the body to rest and recharge, which can lead to improved performance and alertness. This can not only help improve your athletic performance, but makes the body greater at regulating calories which can help you achieve your fitness or weight loss goals. Therefore, tracking your sleep is vital. This lets you know if you're getting enough rest at night to have the energy to seize the day.  
2. Count your steps – One of the most primary functions of a Fitbit is that it tracks your step count. The default goal on a Fitbit is to walk 10,000 steps a day. You will be alerted when you have achieved this goal, or encouraged to get up and get moving if you've been stagnant for too long. However, everyone's fitness levels are different so feel free to change this setting. The NHS simply recommends that you walk 10 minutes a day , so you can start with a smaller daily goal and work your way up to 10,000 steps.
3. Monitor your heart rate – Some models of Fitbit can monitor your heart rate. This gives you an indication of how intense your workout is. For example, if you are exercising, and your heart rate has gone up, then you know you have had a strenuous, high energy workout session. Alternatively, if your heart rate is low, such as during Yoga, you know you are burning your energy in another way.
4. Measure your oxygen levels – The Fitbit Versa 3 features an oxygen saturation tracker. This measures how well oxygen is being circulated around your body. This is particularly important when you're exercising and shortness of breath may occur. Whether you're new to exercising, or are a pro, you should never push yourself too far, and always listen to your body. Remember to catch your breath and take breaks. Achieving your fitness goals is a marathon not a sprint!
5. Ask your voice assistant a question – When you are working out, you might not have your hands free, which is why voice assistant is such an important smart feature. You can ask your Fitbit anything from checking your fitness metrics, to checking the weather, all without lifting a finger.
6. Set an alarm – What better way to start the day than with a quick jog around the park? Or do you want to ensure you make that 6am spin class? Then set an alarm using your Fitbit. When the time comes, your smart device will vibrate, gently encouraging you to get out of bed. You just have to ensure you are wearing the device when you sleep, but as you know, you should do this anyway to track your sleep pattern!
7. Log your workouts – Thanks to automatic workout recognition you can track a variety of workouts using your Fitbit. From running to cycling, swimming, kickboxing, pilates, or even golf, you can ensure you are recording all your exercises throughout the week. This is perfect for people who may not even consider the activities they love as exercise. But yes, your Saturday swim or golf session can all contribute to your fitness goals.
8. Set fitness goals – Finally, and arguably the most important, you can set your fitness goals on your Fitbit. All the above uses of a Fitbit are aimed at achieving your fitness goals, so you need to decide exactly what they are. They can be as broad as you just wanting to be more active, so your goal is to walk at least 20 minutes a day. Then you can start working up to more specific goals such as wanting to go from lifting 10kg to 20kg. Just make sure your goals are achievable as this will help you stick to them, and ensure you outline the exact steps you are going to take to reach them.
There we have it, all the ways to use your Fitbit. From tracking how active you are, to monitoring your sleep patterns, Fitbits can help you holistically track all aspects of health and well-being. Of course, everyone will use their Fitbits differently because we all have different fitness goals. Just focus on your fitness journey and personal ambitions and you should see great results!
So what are you waiting for? Buy a TREK bar today with our Fitbit competition on the packaging, for your chance to win!